On average, those who struggle with alcohol dependence go through typical treatment about six times before they are able to fully get rid of that dependence. At Go Sober, 80% of our patients go through our program once and are then alcohol free for the rest of their life.
Instead of going through the cycle of alcohol treatment, break the cycle and begin your treatment with Go Sober. The treatment program at Go Sober is unlike anything else. We specifically focus on the neurochemistry of your brain, which is altered by your alcohol dependence.
Contrary to popular belief, alcohol dependence is less about will power than it is about your brain. In fact your constant need and craving for alcohol is directly related to the neurochemistry in your brain. The Go Sober program helps restore the brain's healthy reward chemistry. The reward chemistry is something that has been completely altered or lost through your dependence on alcohol
Why Have I Not Been Able to Quit Drinking Alcohol?
If you're asking yourself, "Why can't I quit drinking?", you need to understand that it's not due to a lack of willpower or motivation. Alcohol dependence has many components to it that can make it a complex situation.. Every person's experience with alcohol can be different. However, everyone with an addiction to alcohol shares the same common brain chemistry. This chemistry has been altered due to excessive alcohol consumption.
The Go Sober Program
Go Sober is unlike any alcohol treatment program out there because once you complete our program, you'll be able to go on and live your life alcohol free forever.
Beginning our program you receive a free consultation. During this consultation you'll be able to sit with a trained addiction specialist. This specialist will be able to help you craft a path that propels you forward in life. To be able to live a life without alcohol. These no-obligation and confidential sessions help you find a customizable alcohol treatment plan that is specific to your personal needs. You'll receive a complete breakdown of the cost of your treatment. You'll receive all other resources that you need in order to begin the treatment. Click here to schedule your consultation.
Once you begin treatment we start by doing a series of medical tests. Our medical professionals will take a look at your overall physical health and then create an appropriate course of treatment. Treatment is based off of your lifestyle, your needs and wants, and any other factors that will help reduce your urge to drink.
During your treatment, you'll be under the care of a licensed physician who has expertise in helping to reset your brains chemistry. You'll be prescribed FDA-approved medications along with clinically effective supplements that give you the highest probability of succeeding and living a sober life.
Aside from the medical treatment, you'll receive a customized program that helps you transition smoothly into a life without alcohol. This is provided to you through counseling, life coaching, nutritional education, and physical fitness. Not only do we give you the tools to live an alcohol free life, but we help you adjust to your new lifestyle. When you live a life free of alcohol you'll be able to start to focus on the things that you truly love and are proud to showcase.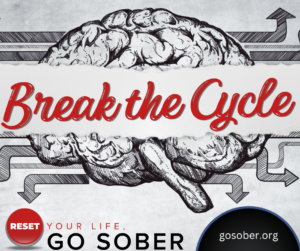 Ready to Start?
If you're ready to live a life that is free of alcohol, we are here for you. Take back control and reset your life with Go Sober. To learn more information, connect with us today! We can't wait to help you live a sober lifestyle.