While we're already a few weeks into the new year of 2020 and you may have skipped out on your resolution to hit the gym more, keep your resolution of living a sober life with Go Sober. Many times, people don't end up following through with their new year's resolutions because they don't know where to start, not due to a lack of motivation. If you've made the decision to start living a sober lifestyle and don't know where to start, start with Go Sober. We're here to help you get sober and stay sober forever. In this blog post, we will be discussing some of our best tips and tricks to help you keep your new year's resolution of living a sober lifestyle. Keep reading to learn more! 
Get Rid of the Holiday Mentality
The holidays are an incredible time and we love all the time that we get to spend with friends and family, not to mention all the delicious food too! However, during the holidays sometimes we tend to forget to take care of ourselves. With all the parties and gatherings, it's easy to forget to exercise, make a home cooked meal, or even get your recommended 8 hours of sleep in. Start prioritizing yourself again this January. 
Self care is more than just drawing yourself a bubble bath or lighting a candle. In fact, it can come in all forms but start by prioritizing your needs. This can be anything from your needs within relationships, at work, or even your relationship with alcohol. Figure out what things you're needing from these relationships and what you don't need. Making a list can be helpful so you can see that visual component in front of you. 
Your relationship with alcohol may be something that you don't like to bring up. However, it's important that you explore that relationship and become more self aware so that you understand how to live soberly. Explore your option to go sober through the treatment programs at Go Sober, which you can learn more about.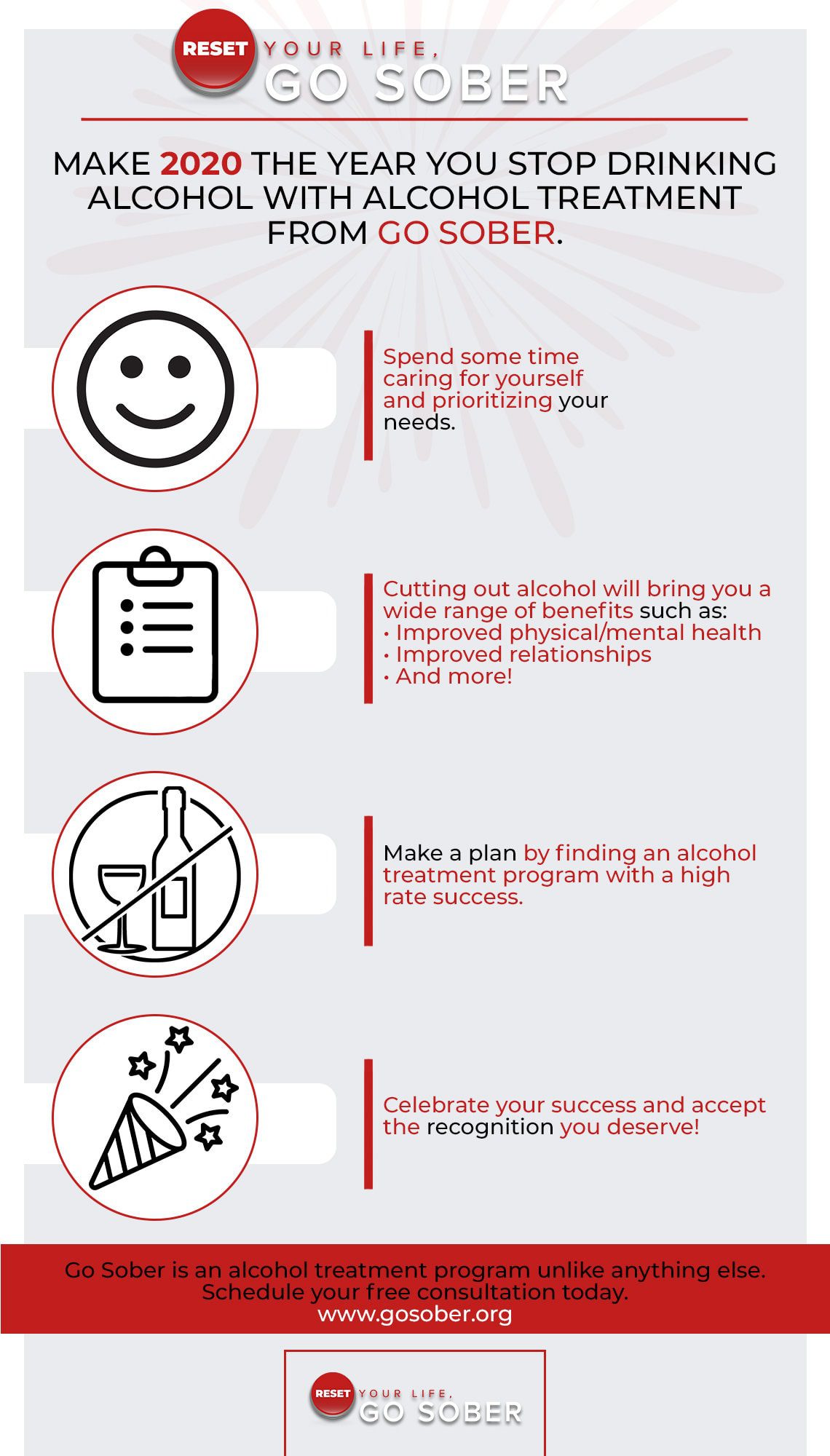 Focus On The Benefits
It can be easy to get overwhelmed when it comes to new year's resolutions. One way to help make sure that you're actually accomplishing these is to focus on the benefits that this resolution offers. For example, when you make going sober your new year's resolution think of all the benefits that resolution is going to bring you. While every person is different these are some of the ways that living a life that is alcohol-free can benefit you. 
Improved physical health

Improved mental health

Improved relationships 

Increased productivity 

Increased happiness 

And more! 
No matter what your main motivation is, keep that close to you. Remember, when you have a clear mind and ability to focus, you'll be able to fully embrace life and everything around you. 
Make A Plan
Making a plan is essential to following through with anything. Benjamin Franklin once said, "If you fail to plan, you're planning to fail". This couldn't be more true. If you're planning to live a sober lifestyle, make sure that you're planning a treatment program that actually works. Did you know that it takes the average person about six attempts when using traditional treatment methods before they actually stop drinking for good? With Go Sober, it only takes one time for you to actually rid alcohol from your life forever! Make a plan to get and stay sober this year. 
Accept Recognition
As we mentioned earlier, you may be reluctant to discuss your journey with alcohol to others but once you've completed your treatment and alcohol rehab at Go Sober, that should be something to celebrate! It's perfectly okay to be proud of yourself for keeping your resolution to stop drinking alcohol. Don't be afraid to share that with others, accept praise, and even reward yourself for your accomplishments! Get yourself that new pair of running shoes or treat yourself to your favorite meal out. Whatever the reward, big or small, you deserve it! Who knows, you may even inspire others around you.
New year's resolutions aren't just something fun to do, they actually impact your life and make a huge difference in the year to come. Change your life and start your journey to a sober lifestyle with Go Sober. 
The Go Sober alcohol treatment program is unlike anything you have ever heard of or seen before. We've spent years working with top neuroscientists, medical professionals, mental-health experts, and addiction specialists to develop an outpatient alcohol treatment program that has an incredibly high probability of success. We have one goal, and that is to help you go sober forever. We even offer everyone a free consultation. This is your chance to be open and honest and receive advice from a trained addiction specialist. It's no obligation and confidential. Connect with us today to start your journey on to a better life.